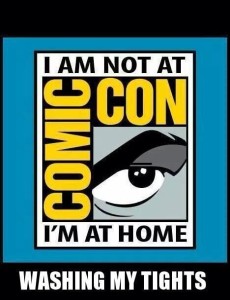 Can't go to San Diego Comic Con this year?  Seeing all your friends and favorite celebrities post on social media about it?  We've teamed up with our friend across the pond, Kerry's Nerdy Habitat, to do SDCC at Home.  You can find her essential guide here.  And for the duration of SDCC, we're offering a sale in our Etsy store – use the code "SDCCatHome" and get 15% off!
Each day of SDCC, we're going to do something different. Today, we're going to share all of Weird Al's new videos – we're still sore from our superhero workout yesterday!
Weird Al recently released his newest album, Mandatory Fun, which is currently #1 on Billboard.  As part of the promotion, he released eight music videos in eight days, all to different sites.  We've provided the Weird Al videos, as well as links to the original that they're parodying.
Day 1 – Tacky — Parody of Pharrell Williams' Happy
Day 2 – Word Crimes – Parody of Robin Thicke's Blurred Lines
Day 3 – Foil — Parody of Royals by Lorde
Day 4 – Tacky — Parody of Fancy by Iggy Azalea
Day 5 – Sports Song
Day 6 – First World Problems
Day 7 – Lame Claim to Fame
Day 8 – Mission Statement — Parody of Carry On by Crosby, Stills & Nash
We hope you enjoyed your SDCC at home!