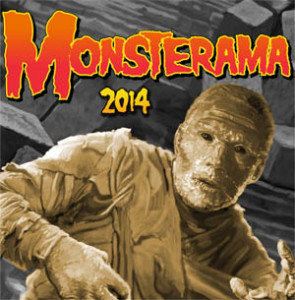 Atlanta's new convention celebrating classic horror and the fantastic—has already announced an exciting list of guests representing an interesting cross-section of film, literature, and art experiences and is preparing to welcome guests who enjoy horror and the fantastic. In its first year, Monsterama is already causing a great deal of excitement because of the depth of horror and the fantastic that will be provided for the fans to create the best entertainment experience possible. Taking place August 1-3 at the Holiday Inn Select on Chamblee Dunwoody Road in Atlanta, Monsterama promises to be an exciting addition to the Atlanta convention scene.
"By classic horror," says media programming director Derek Tatum, "we are talking about the Universal Monsters such as Frankenstein and Dracula, as well as classic 1950s monster and horror movies, and 1960s-'70s Hammer gothic horror films from England and beyond. Our emphasis will not be on zombies and slasher films, but we will be discussing them."
Currently there are over twenty guests announced for Monsterama. Headlining appearances include horror film star Veronica Carlson (Dracula Has Risen from the Grave, Frankenstein Must Be Destroyed, The Horror of Frankenstein), director, writer, and actor Larry Blamire (Lost Skeleton of Cadavra, Dark and Stormy Night, Steam Wars), and Victoria Price (daughter of horror legend Vincent Price). Joining them will be directors Jeff Burr (Texas Chainsaw Massacre 3) and Robert Tinnell (Frankenstein and Me). Authors this year include New York Times bestseller Brian Keene (The Rising) and James Tuck (creator of the Deacon Chalk series). Scott Tepperman, from Syfy's Ghost Hunter's International series , has just been added to the guest list.
Local Atlanta talents are strongly represented in the Monsterama Guest List: Voice actor and pop culture maven, C. Martin Croker (The Brak Show); Horror Event host and make-up expert Shane Morton (Professore Morte); renowned book and magazine cover artist Mark Maddox; and local comedy troupe Cineprov. "We are bringing in guests from around the country," said convention chair Anthony Taylor, himself an expert on horror and science fiction film, "but we are also very proud to have so much local Atlanta talent at Monsterama's first convention."
In addition to celebrities, artists, and authors, Monsterama features screenings of classic horror movies on 16 mm film, makeup and costuming demonstrations, panel discussions, and performances.
"We're very pleased to be working with the Holiday Inn Select Atlanta-Perimeter / Dunwoody. This location is known for being home to many great genre conventions in Atlanta, and it's a great spot to launch Monsterama." According to Media Relations Director, Dan Carroll, "Rooms for up to four people are just $89.95 per night and are available from the Monsterama website."
What: Monsterama, Atlanta's Classic Horror Convention
When: August 1-3, 2014
Where: HOLIDAY INN SELECT
4386 Chamblee Dunwoody Road
Atlanta, Georgia 30341