ATLANTA – June 17, 2014 – Dragon Con, Atlanta's internationally known pop culture, fantasy and sci-fi convention, has selected artist Patrick J. Jones and author Harry Turtledove as its Artist and Literary Guests of Honor.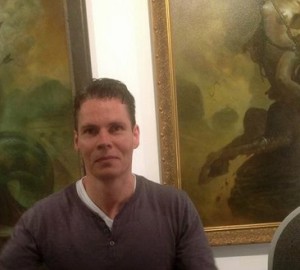 Guests of Honor are widely renowned in their respective fields and recognized as endlessly creative individuals.  They will be recognized at the Guests of Honor Awards Banquet on Aug. 30.
"Year after year, we continue to support artists and writers whose works best exemplifies pop culture, fantasy or sci-fi themed work," said Convention Co-chair Rachel Reeves. "Patrick Jones breathes brilliant fantasy into the human anatomy through imagination and a paint brush.
"With the increasing popularity of alternative history, Harry Turtledove was chosen as our Literary Guest of Honor for his popular tales that take readers to alternate worlds and immerses them in fantasy action."
Jones, who currently resides in Brisbane, Australia, has been compared to fantasy greats Boris Vallejo and the late Frank Frazetta. His understanding of anatomy, design and lighting, best exemplified by his award-winning oil painting, Conan The Conquered, are truly excellent. His technique is impeccable and his work demonstrates outstanding compositions and sensual atmospheres. He is also recognized for his work with the next generation of artists, offering instructional master class workshop videos to provide students with strategy and insight on how to create dramatic fantasy paintings.
Turtledove, who lives in Chatsworth, Calif., is often called the Master of Alternate History. His novel,Guns of the South, combines time travel, social commentary, and a Confederate victory into a widely praised and internationally top-selling novel. For more than four decades, Turtledove has been at the forefront of many innovations in Science Fiction literature, equally at home writing about alien invasions or historically based epics. His many well-received series even include a disaster series based on the lava dome at Yellowstone erupting again.
About Dragon Con
Dragon Con is the internationally known pop culture convention held each Labor Day in Atlanta. Organized for fans, Dragon Con features more than about 3,000 hours of comics, film, television, costuming, art, music and gaming over four days. For more information, please visit www.dragoncon.org and follow us on Facebook and Twitter.
For more information on Patrick J. Jones, please visit http://www.pjartworks.com/
For more information on Harry Turtledove, please visit http://www.sfsite.com/~silverag/turtledove.html