Bricks, the final frontier.  These are the creations of super fans.  Their mission is to recreate recognizable things from the franchise, to give life to an under represented community, to boldly build what no one has built before!
Officially the LEGO Group does not hold the license to create Star Trek sets. So, if you are a LEGO fan to the extreme, although your options might be a bit scarce, there are no limits to the imagination.
Which is why this does not deter those brave men and women who want to cross their fan hobbies.  They may have to go a little farther to match the minifigures just right and they may have only movies and TV shows to use as their models, but they have produced some really amazing creations. LEGOLAND® Discovery Center Kansas City hosted an event last year where adult LEGO fans brought with them some really great ones too.
In the fan world, no license is off limits.  This is where Dr. Who can stand shoulder to shoulder with Captain Kirk.  Now set your phasers to "Being Amazed."  This is the world of Star Trek.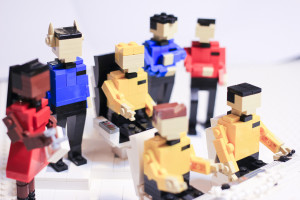 Star Trek Original Crew Statues
For an amazing universe, you need to start at the beginning.  In Star Trek, it doesn't get any more original than the first crew seen on TV.  This stunning replica of all the iconic characters was created by Ryan Ziegelbauer.  From the color and style of the uniforms to their placement, every aspect has been covered in the bridge of the Star Trek crew.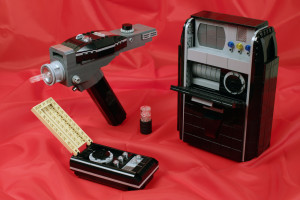 Star Trek TOC Collection
Growing up, you might have wanted to be a member of the starship Enterprise.  If you did then it would be important to have the correct equipment.  Tommy Williamson gives his versions of these classic pieces of equipment.  They include a tricorder for the away missions, a phaser for the security personnel and communicator so that everyone can stay in touch.  That's all you really need.  Now, one to beam up.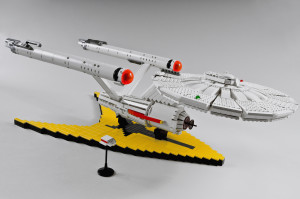 Original Enterprise
The only thing missing from the last entry was a spaceship to fly around in.  Brandon Briffith has solved this little issue with a multitude of space craft from the original series.  This includes the original NCC1701 model of the original enterprise.  Make sure to explore the link to see some of his other ships.  You don't have to travel warp factor 9, check them out once you're done here.
DS9 Space Station
Now that you have a ship, you need somewhere to go.  Well, why not try the only space station that received its own TV series.  This fabulous model was done by Sjaacko.  In the show there's no gravity to worry about so the station's odd shape can easily exist.  That can be an unexpected challenge when trying to reproduce it in LEGO bricks.  Thankfully Sjaacko did an amazing job to this well-known piece of Star Trek history.
LEGO Star Trek Into Darkness Trailer
Models are not the only thing Star Trek fans can make.  Here is a recreation of the Star Trek movie trailer done in LEGO form.  After watching it, you have to wonder which version of the movie you would like to see.  (http://www.youtube.com/watch?v=A7JGT0yxxMw)
Author:
Carlo Pandian is an adult fan of LEGO and freelance writer, and has previously published on The Brick Blogger, Bricks of The Death, and The Rock Father. Connect with him on Twitter @carlopandian.
Credits
ST original crew
http://www.flickr.com/photos/rionz/9254540552/
LEGO Star Trek TOS Collection
http://www.flickr.com/photos/geekytom/7529516958/
Original Ship
http://lmotd.blogspot.com/2010/11/starships-from-star-trek-original.html
DS9 station
http://www.flickr.com/photos/54665113@N03/5117614508/
Lego Star Trek Into Darkness Trailer: http://www.youtube.com/watch?v=A7JGT0yxxMw