Atlanta continues to be one of the epicenters of Cosplay in America with MomoCon leading the way year round. On Sunday December 8th hundreds of people in costume will come out to Centennial Olympic Park to ice skate and get their picture taken by MomoCon photographers.
Atlanta, Georgia (PRWEB) December 02, 2013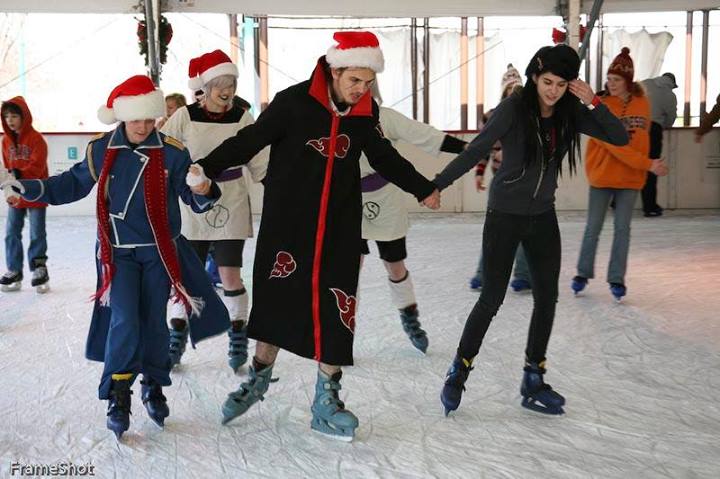 MomoCon is happy to announce the return of Cosplayers on Ice, a free photo shoot event for all ages held at Centennial Park Ice Rink in Atlanta, Georgia on Sunday December 8, 2013 starting at 3PM and going to 6PM. Cosplay, or Costume Play, is a growing activity in which fans of animation, comics, or anime dress up as characters using wonderful costumes, many of them made by the fans.
Fans are encouraged to bring their best holiday outfits and cosplay and join the fun at Cosplayers on Ice. Attendance at Cosplayers on Ice has been in the hundreds and for 2013, it is expected to grow. If you are looking for an interest event to enjoy, join hundreds of other costumers and professional photographers for a fun day of ice skating, play in the park, and more, culminating in a large group photo under the huge Christmas tree in Centennial Park.
In 2013, Atlanta was named the nerdiest city in the country by a real estate blog, and our costuming culture is considered one of the main reasons. Indeed, Atlanta has become the focal point of costuming in America due to success of Atlanta's pop culture conventions, such as MomoCon.
MomoCon is the home-grown Atlanta event that began on the Georgia Tech campus as a two-day event in 2005. It is known internationally as one of the fast growing family-friendly conventions in the world. Jessica Merriman, Internal Chairman and founder of MomoCon, explains that the event grew from a small gathering to "an anime, cartoon and gaming convention, with great celebrity and industry guests, events for everyone in the family, performances, live music, demonstrations, screenings and movies, elaborate costumes, and great festival fun"
MomoCon is held on Memorial Day Weekend (May 23-25, 2013), but the convention hosts events throughout the year, as part of MomoCon on Tour. In addition to Cosplayers on Ice, there are arranged photoshoots, semi-formal dances, art contests, gaming events, and festivals. According to Jessica Merriman, "These events allow the fans of cartoons and gaming a chance to meetup regularly, show off great costumes, and be a part of a community, at little to no cost."
What is the appeal of cosplaying characters from animation? "Animation offers possibilities which are hard to realize with traditional film, and when someone cosplays they are taking part of that impossible world with them to the real one to share with everyone what they loved most," said External Chair Chris Stuckey. "Holding events like Cosplayers on Ice allows families to participate with their children in something fantastic. It's become an institution in Atlanta for some families, who come year after year."
Cosplayers on Ice is one of the most popular MomoCon on Tour events, and this year the MomoCon team will be out in full force with door prizes and give aways that include free MomoCon 2014 memberships.
Due to the ice skating nature of the event, the MomoCon has asked that all costumers leave large props at home, as this is a very public event. Even if you don't cosplay, we encourage everyone to come out to enjoy the festivities.
Details:
Who: Open to all
What: Ice Skating & Photoshoot/Costuming
When: Sunday, Dec. 8. 3pm – 6pm
Where: Centennial Olympic Park Ice Rink
Costs:
Photoshoot – free
The park charges a rink fee and a small skate rental fee if you wish to skate