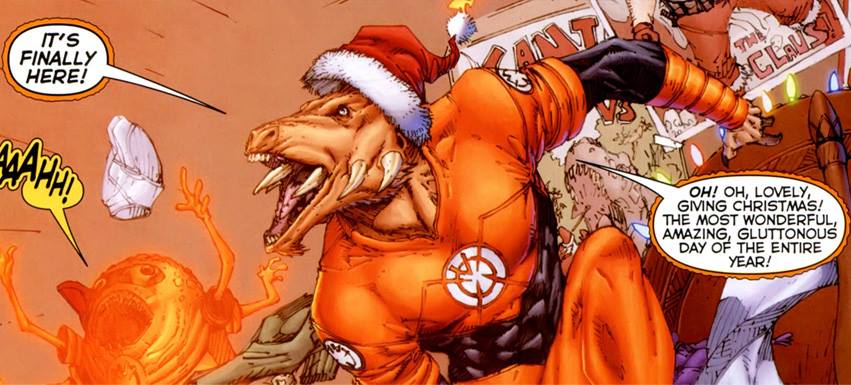 Every year at the global headquarters of The Geek Forge, we throw a little party that is (after three years) starting to catch on with other geeks. It's called Larfleezemas. We hold it in early December and here is everything you need to know to hold your own Larfleezemas party:
Larfleeze is a comic character that bears an orange power ring (just like Green Lantern) and is driven by the emotion of greed. It's also a pretty funny guy.
There are Larfleeze cookies (you can find the recipe here), socializing, boardgames to be played, movies to be watched.
There are two rules:
1) Bring something to glut yourself on (and possibly for others to eat)
2) Buy a present for yourself (no matter how small) wrap it and give it to yourself at the party.
We decorate in orange, black, and white (we even have a little black Larfleezemas tree).
Let us expand on the true meaning of the holiday: GREED.
You do not have to share. You do not have to think about what you will get for someone else. You do not have to play stupid games where you buy a gift for someone by drawing a name from a hat. You do not have to bring food to share. The spirit of Larfleezemas is good, honest GREED.
The perfect Larfleezemas gift is something that you don't even need — you just want it! And as everyone watches you open your gift, you're expected to be annoyingly smug about it and we all promise to be insanely jealous.
Previous examples of great gifts were: leather driving gloves for a steering wheel that was already covered in leather, a new truck, a third kindle (how decadent), stock shares in a football team, and a house. Let the true spirit of Avarice fill you before you have to pretend that you really love that Lowes giftcard you got for Christmas.
Plan your Larfleezaemas Party today and plan to tell us about it after!