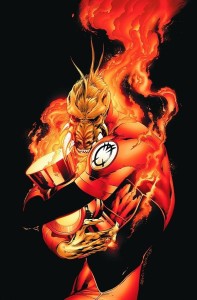 Do you know what people want the most? Something somebody else has. – Larfleeze (New Earth)
Yes, it's that time of year again.  Looking for gifts to get the favorite geek in your life, or maybe like Larfleeze, looking for something for yourself.  Here are some of the best places for geeky gifts!
| | |
| --- | --- |
| | The Geek Forge! Yes, a shameless plug, but we're not sorry! Check out our Etsy store and our Spreadshirt store. We're ever-expanding, and might even be able to make you that custom gift you've been hunting for. Plus, until November 27, 2013, you can use the special code HOLIDAY13 for a 10% discount on everything in the store. |
| Etsy in general! There are dozens of great stores that cater to everyone and everything. A quick search on your favorite geek keyword will have you browsing all day!  Plus, everything is handmade, and you'd be supporting small businesses. | |
| | Entertainment Earth! This is our first stop for all our collector needs. |
| ThinkGeek! For geeks of all kinds – science, math, technology or otherwise. | |
| | SuperheroStuff! A great resource for all things wearable! There's a wide range of clothes in all styles, with all your favorites. |
Did we miss any? Where are your favorite places to buy geek for the holiday?