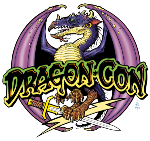 Dragon Con has been over for a week now, and the steady stream of photos and videos of cosplayers has begun.  Across the Internet, costumers (including ourselves!) are searching for that perfect shot, snagged by a cell phone or digital camera.  In the coming weeks, the professional photographers will be releasing their finished photos, with touch-ups and fantastic effects.
Costumes that have taken months or even years to complete were on display all weekend at Dragon Con, and not just in the parade on Saturday morning.  Any time of day or night, a quick step into any of the host hotels shows remarkable craftsmanship, ingenuity and creativity.  Here are some of our favorites:
The Futurama Family
We snagged this picture in the food court, while some of Earth's greatest heroes of the year 3013 were waiting to order their food.  Pictured (left to right) is Bender, Kif and Zapp Brannigan.  We're pretty sure Bender is just there for a free meal.  We believe that the family that cosplays together is an awesome family.
Wonder Woman Photo Shoot
Every year, the Superhero Costuming Forum works hard to organize amazing photo shoots to show off all the hard work the members do all year.  We were lucky enough to stumble onto this shoot.  This will not end well for Zeus (on the ground).  The villanesses (pictured from left to right) are Flashpoint Wonder Woman, Black Lantern Wonder Woman, Giganta, another Black Lantern Wonder Woman, Circe and another Flashpoint Wonder Woman.
Xena and Autolycus
One of the best things about Dragon Con is the wide variety of costumes you see.  We ran into this great pair of cosplayers with fantastic handmade costumes on Sunday night.  Because even a warrior princess has to eat, and the King of Thieves is always looking for his next mark.  Pictured left to right, Xena and Autolycus.
The crew of the Enterprise
Even Starfleet allows some shore leave now and then, although Lieutenant Sulu might be having a little too much fun.  Pictured, from left to right, the gentleman is wearing command stripes and may be another Captain Kirk (although we're not sure so if anyone knows, let us know!), Montgomery "Scotty" Scott, Dr. Carol Marcus, Captain James T Kirk, Leonard "Bones" McCoy, and Hikaru Sulu.
Check out these photos and many more here, on our Facebook page, or on our Flickr account. And stay tuned for more Dragon Con!