We were lucky enough to be able to attend the first ever Goo-Con, held at Clayton State University, in Morrow GA.  Goo-Con is a convention that focuses on the construction of props, makeup and costuming.  We were told about two hundred people per-registered, and by the end of the weekend those and more had attended.  One of the first things we noticed was the diverse number of topics being presented.  Working with foam, prosthetic makeup demonstrations how to distress a costume and how to incorporate lights and sounds into a costume were all presented in a clear and accessible way.  Because of the size, it was easy to move from panel to panel and we started to see familiar faces.  The presenters were very knowledgeable on their topics, and were able to answer any question thrown at them.  Even after the panel was over, the presenter was still answering questions and talking to con-goers about their favorite glue or preferred technique.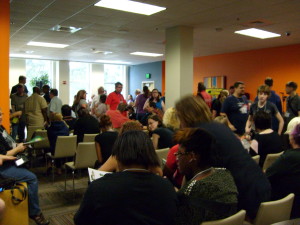 Goo-Con was more seminar-like than most geek-related cons tend to be.  The schedule was arranged such that you could walk in without any prior experience on Saturday morning, and walk out on Sunday afternoon with many new skills under your belt!  And, again, because of the small size, there were very few concurrent panels, so you didn't have to choose between which panel you were going to sit in on.
We think Goo-Con is off to a great start, and we can't wait to see what 2014 will bring!