"I came here to chew bubblegum and roll dice…and I'm all out of bubblegum."

This past weekend, we went to GenCon 2013 in Indianapolis, Indiana.  GenCon calls itself "the best four days in gaming", and we couldn't agree more!
The convention ran from August 15th to August 18, and the final official count of attendees was over 49,000 – a new record!  Not to mention setting the Gueinness World Record for the largest game of Settlers of Catan – 922 people playing!  At one time!
Wednesday
We flew out of Atlanta on Wednesday afternoon.  Jen's seatmate was creating a Pathfinder character during the flight, and we counted at least six different copies of George R.R. Martin books being read.  Once we landed in Indianapolis, we got on a shuttle full of folks headed to the Convention Center.  Walking into the lobby of our hotel, there were already people playing board games, and the convention didn't officially start for another day!
Thursday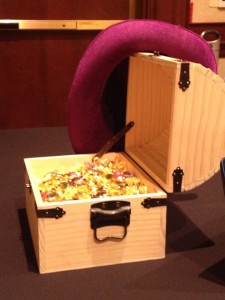 Thursday morning started our whirlwind of gaming activity.  We played a game of 7th Sea, which neither of us had played before.  Both of us played pre-generated characters from Avalon, and had a great time swashbuckling and giving the bad guys their just desserts!  After beating the villains at their own game, we took a quick break for lunch before taking our first peek into the Dealer's Hall.  We were overwhelmed at the size of it all!  The booths went on for rows and rows!  We stopped by Paizo's booth to pick up the new Pathfinder book, Mythic, and wandered to see what we could see.
Then it was off to a rousing game of NASCRAG.  NASCRAG is a tournament-style module that is in it's 34th year.  We were an angsty teenage vampire and a boisterous pirate captain (notice a theme?), and had a great time with our team, two of whom we hadn't met before the game started.
Once the game was done, we had just enough time to check out the video game room, where we played DDR and arcade machine-versions of Teenage Mutant Ninja Turtles and the Simpsons.
Friday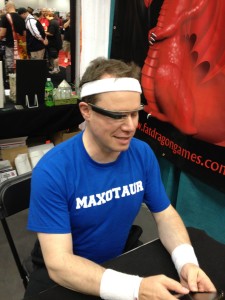 Friday started off with a playtest of the new version of Rolemaster.  Jen had never played before, but everyone at the table was eager to help her understand how to use the charts.  After an adventure of some climbing, mostly falling and some slaying of slavers, we were off to spend more time in the Dealer's Hall.  All the vendors, artists, writers and autographs were in this one room, so there was a lot to see.  We waited to meet the Dungeon Bastard Bill Cavalier, and he was awesome enough to take a few pictures with us.  We also helped him time-travel, with the assistance of Google Glass.
We then got to sit in on the Numenera launch, where we learned that Bruce Cordell, longtime friend of Monte Cook, was joining the Numenera team.  Plus, we got to see new artwork and hear about their upcoming projects.  We can't wait to play this game, and are very excited to see the future of Monte Cook Games!
After a quick dinner break, it was into the Gaming Hall.  Again, huge.  The number of people playing games at the same time, playing so many different games was amazing.  We saw some amazing miniatures, and D&D's very impressive Lolth statue.  We played a quick game of Discworld and Zen Garden before the hall closed down for the night, which only sent us to the Game Library to play even more games, like Warhammer's Chaos in the Old World.  The Game Library is an impressive collection of games where you pay a small fee to play as many as you want.  It's a great chance to try new games, or play old favorites.
Saturday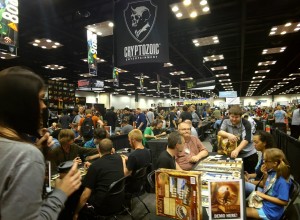 We started Saturday off right, with a delicious brunch and New Holland Dragon's Milk Stout from Loughmillers.   Our NASCRAG team advanced to the second round, so we got to meet up with our new friends and have more dice-rolling adventures! Unfortunately, we didn't advance to the final round, but that meant we spent some more time in the Dealer's Hall, because there's just too much to see in one visit! We also got to see Wil Wheaton, which was a great treat for us!
Sunday
We woke up early and flew back to Atlanta, already planning our trip to GenCon next year!
You can check out our pictures here, or on our Facebook page.  We also uploaded some videos to our new YouTube channel. Did you go to GenCon?  Always wanted to go?  Leave a note below!