Deathstroke: The Terminator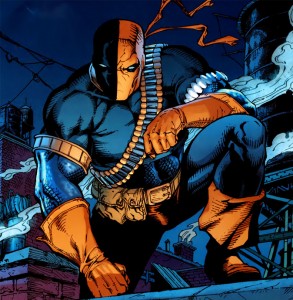 I wanted to do Deathstroke as my very first comic book villain, debuted at DragonCon 2011 in Atlanta GA. Here's my step-by-step process:

1. Concept art. I never start a costuming project without concept art. That way, I always have something to look at when I'm getting frustrated with a small detail.
2. Patterns and fabric.With some help from Brian, it was decided to do this costume in three pieces – an overshirt (the navy blue), a leotard made of light blue and orange, and navy blue leggings.
3. "Found" pieces. Some of the costume pieces, I "found" rather than made.
4. Making and customizing pieces. After collecting all I could that was "found", the next step is to modify what I "found" so it fits what I want, and make whatever I couldn't find.
Finishing touches – adding bands of orange spandex to the ends of the sleeves of the Underarmour shirt and a band of orange spandex to the leg of the leggings (attaching the top only)